When people go on vacations, some explore the culture, some venture into the luscious nature, and some participate in exciting outdoor activities. But one thing is always common about all vacations, and that is shopping. Big or small, vacationers always bring some kind of souvenir from the places they visit. Some holidaymakers set aside some money for a shopping spree, while others actually travel across the world for the sole purpose of it. Streets with the hottest shopping scenes are always seen buzzing with people, swarming the shops and helping them make sales worth millions daily. Such busy shopping streets are hard to pass over. They are the shining jewels of many major hot-shot cities and deserve recognition. And in this article, that is exactly what will be doing. Here are some of the most expensive shopping streets in the world where shopaholics would love to plan their dream vacations.
Avenue des Champs-Élysées, Paris, France
Let's kick off the list with one of the most expensive shopping streets anywhere in this world. Each year more than 300,000 shoppers frequent this city for several reasons, like Paris Fashion Weeks, luxury couture, various limited edition designer creations and much more. It has something to offer for people with all budget limits.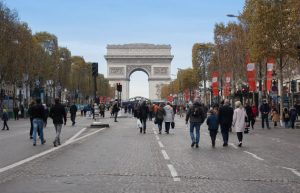 You will find famous brands that are considered to be elites in the realm of high-end in the most expensive shopping street in Paris, Champs-Élysées, like Tiffany and Co, Luise Vuitton, Guerlain and the list goes on. With all these big names under its belt, is it even a mystery as to why Paris is considered the Fashion capital of the world?
Causeway Bay, Hong Kong, China
Causeway Bay is the most expensive shopping street in the urban areas of China, not just in terms of the price of products sold in the shop but also the rent of the shops as well. Some of these shops are rented out for a very steep price. However, that hasn't come in the way of the growing number of shopping centres here. You will definitely find everything you want on this street.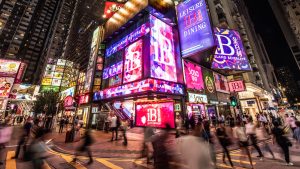 Some of the top players in the game are Times Square, the World Trade Centre and Sogō. if you are looking for some trendy fashion scenes then pay a visit to Lee Gardens One & Two, Hysan Place, Lee Theater, Times Square and Fashion Walk. But that's not all, from fashionwear and electronics to food and beverages, nothing is off the limits on this street.
Fifth Avenue, New York City, USA
New York itself is known as the "City that Never Sleeps" making it a perfect place for a 24/7 shopping spree. And Upper 5th Avenue in this city is one of the most famous and expensive shopping streets not just in the USA, but in the entire. From Washington Square Park, it extends up to 10 km in different directions.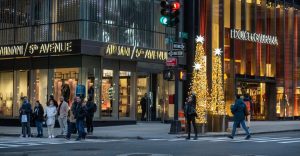 You will find an overwhelming number of flagship stores of major brands and luxury labels in every direction. Brands like Hermès, Gucci, Tiffany & Co., Prada etc. are just to name a few influential ones. Trust us when we say that your credit card bills will be piling from the moment you step foot into this street.
Bond Street, London, UK
Bond Street is the most expensive shopping street in London and the third most in the entire world. Renting out any place in London will be expensive, to say the least. But the shopping centres in this area make more than enough to pay it back while making huge profits. And without making much effort this street replaced the Champs-Élysées as Europe's most expensive shopping street.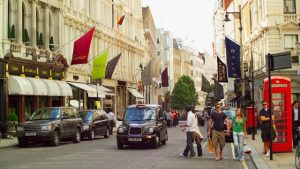 This famous shopping street in London proudly features a prolific number of elegant shops, exclusive brands, designer clothing, luxury items, fine jewellery, works of art and antiques. Standing firm in the heart of the historic Mayfair district, people revere it as the perfect example of cultivated luxury.
Ginza, Tokyo, Japan
Ginza in Tokyo, the New York of Japan, is one of the most expensive shopping streets in the world. You can visit some of the most famous luxury shopping centres, exquisite dining options, and massive entertainment centres. It is definitely a hot place to visit. No wonder it comes with a sky-high rent.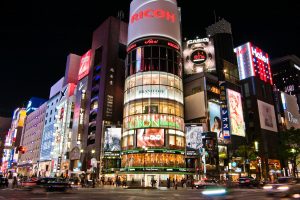 Ginza really lives up to its reputation as the shopping district of Japan. Coming across a high-end boutique shop that sells products from globally well-known brands. Ginza is a must-visit place for shopaholics when travelling to Japan. Just cruising through the streets while holding a $10 cup of coffee in one hand while dragging dozens of shopping bags in the other, is the real life of elites.
Via Montenapoleone, Milan, Italy
Milan is not just the host to one of the most iconic fashion weeks, but it is also home to the most expensive street in Italy, Via Montenapoleone. This impressive street has helped Milan maintain its reputation as the 'fashion capital' of the world. And what more can be expected from a street that can single-handedly generate almost 25% of the total international shopping turnover of the entire city?
Luxurious stores and boutiques filled with high-end brands like Prada, Giorgio Armani, Dolce & Gabbana, Versace and Yves Saint Laurent, are a common sight on this street. Millions of people travel to Milan every year to check out the new collection of these stores so they can keep their personal collections up to date. 
Myeongdong, Seoul, South Korea
The whole reputation of South Korea is mostly based on visuals. The elaborated shopping scene in the major cities here is mainly responsible for maintaining and elevating the standard of living in the country. And one of the best and most expensive shopping streets in the entire country is Myeong-dong in Seoul. It attracts over a million shoppers daily.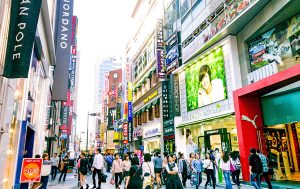 For people looking to splurge on a lavish shopping spree while snacking on street food and later enjoying the extravagant nightlife, then Myeong-dong is the place to be in. This street is bustling with high-end products which are beloved by the Nation, like Nature Republic, Etude House, We11done, etc. It hasn't been much longer since they also started heavily featuring many international luxury brands in their stores. So if you are ever in Seoul and want to get your hands on some Gucci or Bvlgari products, then hop on a Taxi to Myeong-dong Street.
It is never too late to go on a massive spending spree. So book your flight to these amazing destinations to fulfil your inner shopaholic's dream today from NCL Tours.