People say if you could go on a road trip, even once in your life, then New Zealand would be the best choice. Road-tripping across Aotearoa, the name of New Zealand in the current Maori language loosely means "the land of the long white cloud", is one of the best travel experiences one can hope for in their life. You should reserve at least 2-3 weeks on hand if you want to travel through this enchanting country by road and take in the beautiful landscapes and attractions it has to offer. But now you have to address the daunting question of which places to visit during your short trip to make it worthwhile. Don't worry because we have you covered. If you want to check out which route to take to help you plan for the ultimate road trip experience in the Northern Islands of New Zealand, then keep on reading.
Auckland
For this itinerary that we have selected, the fun and exploration of various attractions starts from the biggest city in New Zealand, Auckland. Though after you land here your first day will be spent acquiring transport and accommodation. Here if you prefer to avoid the hassle of looking for a place to stay everywhere you will visit in New Zealand on your road trip then we would suggest you rent a campervan for convenience. It is fairly easy to find car rentals and motels in Auckland, so you can rest up the entire day.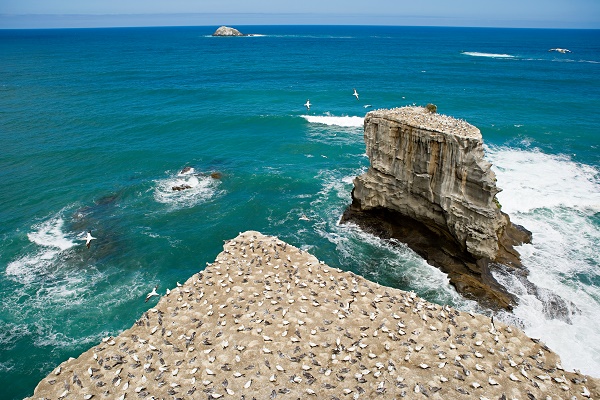 Start off your exploration of Auckland the next day with a 40-minute drive to the gorgeous Muriwai Beach while passing through picturesque farms and pastures. Try not to spend too much time there as there is so much to explore in the city. The Sky Tower, Albert Park, Domain Wintergardens, Mount Eden Summit and the Auckland Museum and art Gallery are some of the highlights of the city. Auckland is also one of the most culturally diverse cities in New Zealand, with a sub-tropical climate and a relaxed way of life. 
Hahei
For your next stop, drive off to the city in the Waikato region, Hahei. There is a lot to do and see in the Village, including Cathedral Cove Kayaking, also known as Te Whanganui-A-Hei Marine Reserve, which is the most famous attraction of Hahei with its towering limestone arch. Due to being sculpted and reshaped by wind and water, the large pinnacle of pumice breccia rock known as 'Te Hoho' now resembles the prow of a large ship steaming into the beach.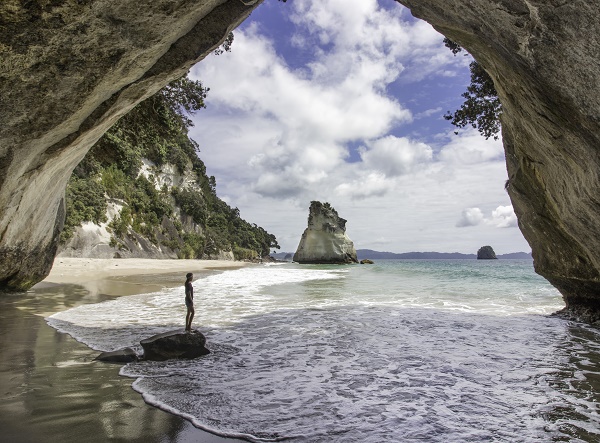 After parking at the Hahei beach car park, it takes about 1.5 hours to reach Cathedral cove. The trail starts with a 10-minute walk to the Gemstone Bay Snorkel Trail, home to colourful reefs and crayfish. Then after 20 minutes, you will reach Stingray Bay and finally another 45-minute walk to the Cove.
Tauranga
It is approximately 2 hours and 19 minutes by road from Hahei to one of the fastest-growing cities in New Zealand. It is a harbourside city, so it is popular thanks to its beaches and warm weather perfect for water-based activities like surfing, swimming, etc. And most of the top tourist sites are free to enter. So add the historic Elms Mission Station, an 1847 Georgian-style home; Waimarino Adventure Park; McLaren Falls Park; Hairy Maclary & Friends Tauranga Waterfront Sculpture to your list.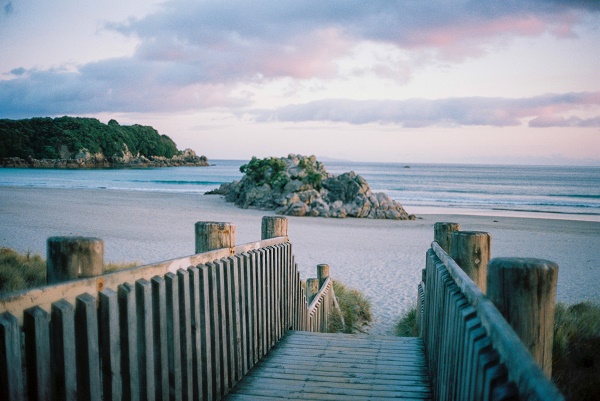 Tauranga is connected to Mount Maunganui, a beach town with hot saltwater pools and an extinct volcanic cone with winding walking paths, by a bridge and from here you can take a boat ride to the active volcano, White Island. For people who love engaging in outdoor activities, stopping at this Bay of Plenty town is a must.
Rotorua
In less than an hour's drive, you can reach the popular tourist hub, Rotorua. This place is known for its bubbling thermal mud pools, shooting geysers, natural hot springs, and plenty of pristine lakes and rivers. The riveting features of the boiling mud led the locals to make the English name of the area to be Hell's Gate. Another appealing thing about Rotorua is the fascinating display of the Māori culture.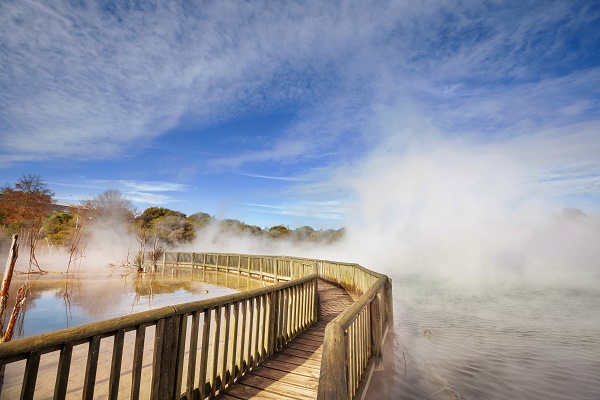 There is no way one can run out of adventurous things to do here, especially with so much to explore. Redwoods Treewalk, Polynesian Spa, Wai-O-Tapu Thermal Wonderland, and venturing into the Tamaki Maori Village are the top picks of many tourists who came here. 
Raglan
Next head to the coastal town of Waikato region of New Zealand after a 2 hours long drive. The town is popular among tourists for its long surf break at Manu Bay, Whale Bay, Vortex Bay, and the black-sand Ngarunui Beach. Visit the Raglan & District Museum which exhibits many apothecary items and surfing memorabilia.
Other popular attractions include Bridal Veil Falls, Ngarunui Beach, Wildcoast Ruapuke Horse Riding, Te Toto Gorge Lookout, Raglan Wharf and an extinct forest-clad volcano overlooking the Tasman Sea, Mount Karioi. This extinct volcano provides a breathtaking view of the surrounding water, bush, and natural landscapes.
Waitomo
After about a 1-hour car ride you will reach one of the most interesting parts of your New Zealand road trip with sheer beauty and a large-scale subterranean landscape, the Village of Waitomo. This village is one of New Zealand's top tourist attractions and is known for its extensive underground cave systems, where you abseil, zipline, climb, and tube through the caves. The population of glowworms lighting up these caves are also insanely high.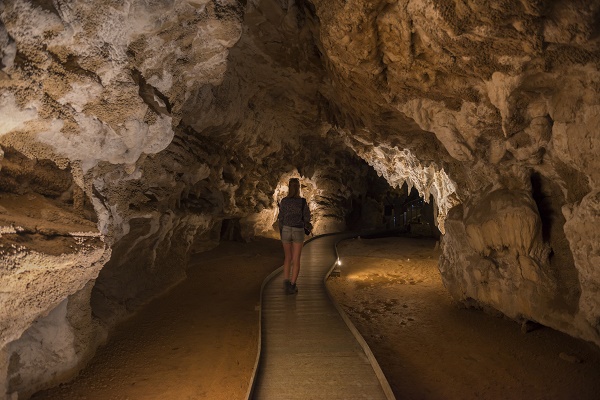 The twinkling glowworms, elegant limestone formations, exquisite waterfalls and jaw-dropping array of stalagmites and stalactites are enough to draw tourists to the captivating Waitomo Caves. Some other top attractions of Waitomo District are Ruakuri Cave, Waitomo Glowworm Caves, Marakopa Falls, Ruakuri Walk, and Mangapohue Natural Bridge Walk.
Whanganui
After three and a half hours, the longest duration of road trip between two destinations in New Zealand on this list, you will get to the coastal city of Whanganui. Based along the Whanganui River, New Zealand's longest navigable river, this isn't always on the itinerary of tourists, but nonetheless, it is definitely worth visiting. 
The Museums and historical sights located here can provide deeper insights into the Maori and European history. There are also some great options for contemporary experiences, like checking out the Art at the Sarjeant Gallery and the exhibition at the Whanganui Regional Museum, visiting the Ward Observatory, hitting the hiking trails, watching glass-blowing at New Zealand Glassworks, cruising down the Whanganui River and so much more.
Wellington
Finally, you will reach your last stop at the bottom of the North Island on your New Zealand road trip after two and a half hours of a car ride to Wellington. What would be better than to end your journey in the capital city? This place, with its wet and windy weather, features a plethora of Cultural attractions, cafes and a stunning array of coastlines and mountains.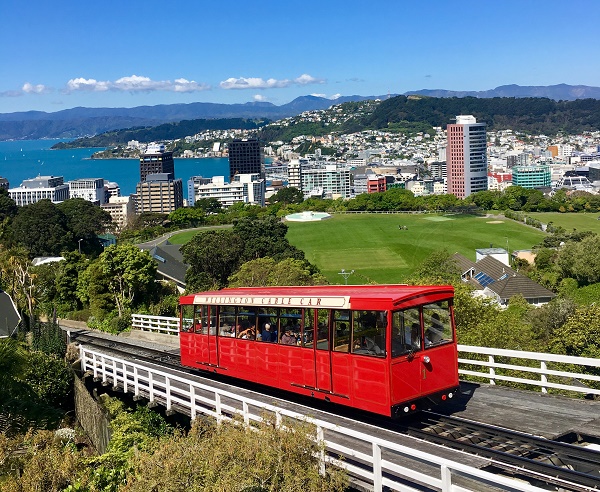 Wellington has a little bit of everything a waterfront promenade, sandy beaches, parks, a working harbour, colourful timber houses on surrounding hills and plenty of shops, cafes and restaurants on Cuba Street. Take a ride up Mount Victoria with a cable car to view the beauty of the city at a glance or tour the famous props and costume shop, Weta Workshop. From here you can keep on exploring the southern Islands of New Zealand by taking a ferry across the waters. 
If you are also thinking about planning such an exhilarating road trip across New Zealand, then don't wait around and book your flight today from NCL Tours.