If we tell you that travelling abroad will be easier on your wallet than travelling within the USA then would you find it plausible? Well, since the rate of the American currency has appreciated this year and has gone closer to the rate of the euro, things seem much cheaper now.
Due to the elevation of the currency rate, American travellers can now add 15% to their budget from the summer of 2021 and 6% to their budget from the summer of 2019.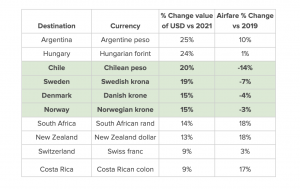 As seen from the chart, countries like Chile, Argentina, and Hungary have shown the most appreciation for American dollars, 20% up in Chile, 24% in Hungary and 25% in Argentina. This will allow travellers to easily save up the required budget for their next trip to exciting destinations in these countries.

However, travellers are still worried about how fast and how much the airfares are rising in the United States as compared to in Europe. Airfares raised under 15% in Europe while they raised over 30% in the USA, making travel to some international destinations cheaper than the domestic ones. Currently, countries like Croatia, Portugal, Ireland and Greece are reporting some of the cheapest fares in Europe.
A round-trip to Willemstad, Curacao will cost tourists $670 while it is $727 to Honolulu. Ponce, Puerto Rico is currently among the cheapest places with a rate of $332 round-trip.
Hayley Berg, the Lead Economist at Hopper, has stated, "With record-high domestic airfare this summer, travellers can trade in domestic destinations for incredible international trips at the same price, or less. Travellers can find deals to Iceland, Dublin, Lisbon or Stockholm for the same price or just $50 more than a round-trip flight to Hawaii,".
She further added, "Flexible travellers should head to Croatia, Portugal, Ireland or Greece to make the most of low airfares this year. Airfare to Portugal has dropped 11% compared to 2019, while airfare to Croatia has dropped 8.4% over the same period."
One of many helpful tips to stretch your budget for international travel is to be flexible on dates, for instance, some of the best times to see the airfares drop are late August or from September through October, some fares even drop as low as 30% from June's peak.
Another expert piece of advice is for better exchange rates make sure to do your currency exchange at your local bank and not at a cash exchange service in the airport. The additional ATM fees can be more expensive than you can imagine and put a damper on your travel budget.